Must Be the Music is more than just an X Factor clone @MustBeTheMusic #MBTM
Originally written off as a cheap X Factor spoiler, Sky 1's talent show has fooled critics by propelling its acts into the top 10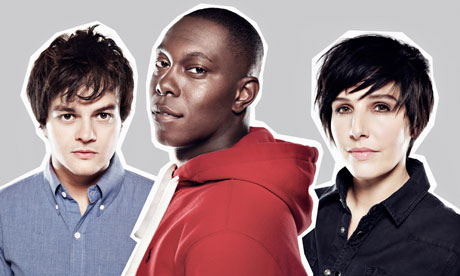 In the years since Top of the Pops took its last journey to the merciful veterinarian, British TV's quest for a Simon Cowell-free prime-time music format has assumed the unlikely character of Ferdinand Magellan's search for the north-west passage. And if you were looking for likely sources of a radical restructuring of the relationship between TV and original songwriting, an early evening Sky talent show presented by Fearne Cotton would not be the first one you'd think of.
Yet over the past couple of weeks, Sky 1's Must Be the Music has surpassed low expectations of a blatant X Factor spoiler just as dramatically as the same channel's Pineapple Dance Studios transcended its provenance as a barrel-scraping copycat show. But the nature of Must Be the Music's central innovation is so different to that of its illustrious terpsichorean predecessor. Superficially traditional in structure – recorded audition shows, whistle-stop home visits from expert judges (a sincerely ebullient Dizzee Rascal, a classically austere Sharleen Spiteri and/or a deceptively stringent Jamie Cullum), live semi-finals, proud parents, endless recaps – Must Be the Music eschews the deliriously camp fourth-wall demolition of Louie Spence, Andrew Stone and co in favour of a single revolutionary novelty.
At first, the decision to make semi-finalist's tracks available for download immediately after broadcast "so they could start making money from their music straight away" – with neither Sky nor the judges taking any cut of the artists' profits – seemed like a neat way of cocking a snook at The X Factor's more mercenary motivations. But when the first semi-final's stand-out performers – hilariously overwrought keyboard and vocal duo Pepper & Piano – leapt straight into the next week's top 10, to be followed seven days later by plausibly plaintive Edinburgh busker Emma's Imagination, with synaesthesia-assisted piano prodigy Kyan topping the classical download charts in the meantime, it was clear that something far more significant was going on.
One of the many heartening things about the contestants on Must Be the Music is how reasonable their ambitions seem – especially when set against the delusional dreams of fame and fortune that The X Factor's cannon-fodder are encouraged to harbour. Ickily named 11-year-old Celtic songwriting prodigy Hero wants to be able to afford her own harp. And the most oft-stated ultimate goal of her older rivals is "to make a living from our music" (only recklessly self-assured Irish fiddler Daithi dares to set his cap at "a comfortable living"). With landline phone-votes costing a mere 5p (a tenth of what Big Brother used to charge) and downloads set at a reasonable 59p, viewers get the opportunity to make such dreams sustainable. And – confounding conventional wisdom about public willingness to pay for music – they're doing so in huge numbers.
An approximate 2% take-up rate might not sound like much, but with an audience of approximately half a million, that adds up to 10,000 downloads. And after this week's show-stopping performances by both the aforementioned pre-teen Joanna Newsom devotee and improbably well-drilled Essex rude-boys Missing Andy (who are a bit like Hard-Fi or the Ordinary Boys, only good), these figures look set to rise substantially by the time of Sunday's live final.
Joining Hero, Missing Andy, Emma's Imagination, Pepper & Piano and Daithi in front of a 10,000-strong packed house at Wembley Arena will be Arcade Fire-channelling indie boy-band the Pictures. What kind of impact such a vertiginous leap up the pop food chain will have on this fresh-faced lineup's capacity to build long-term careers remains to be seen. And it will be interesting to see how the music business responds to a development that must have chilled the marrow of Britain's hard-working A&R fraternity. But there is one asset each of these acts has in common (aside from their uniformly terrible names). When the time comes to utter that most reliable of reality-show finalist consolation phrases – "We're all winners, really" – this usually bogus claim will actually have some financial substance to it.
Read the article here